FOS3 plus fingertip Oximeter
Fingertip Pulse Oximeter – FOS3 plus – FOS3 plus Fingertip Oximeter
FOS3 plus
Fingertip Oximeter
Meditech fingertip
Pulse Oximeter
, Color high-clearance screen with 4 display modes and the brightness can be adjustable.
Alarm sets for low voltage, abnormal SPO2 and PR.
FOs3 plus will be automatically power off without signal. and have Inner flash memory sets for more than 30 hours data storage.
Advanced software for sleep study and monitoring and transfer data to the computer which allow you to print the reports A4.
Wire connection (USB), and Bluetooth option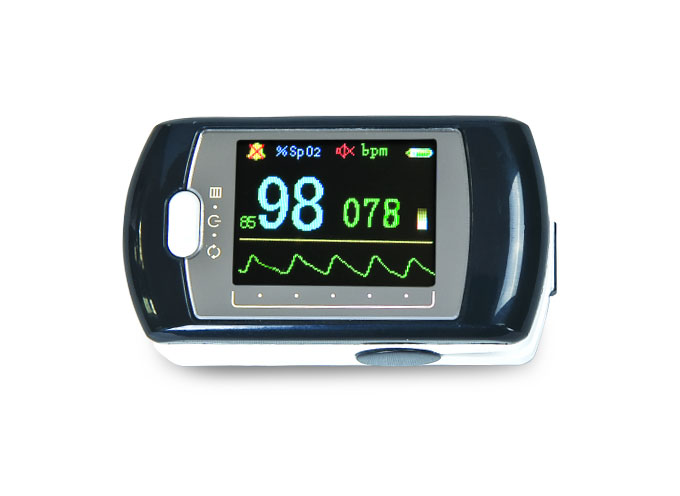 FEATURES
Color monitor, (Pixels: 160*128, 256K color) 1.3″
Built-in memory stores up to 24 hours of downloadable data (USB cable included).
4 different display modes
Adjustable brightness settings.
Built-in, switchable alarms for SpO2 and pulse rate.
Pulse histogram and SpO2 wave display
USB interface ensures convey of SpO2 data, (Wireless option)
Easy to use & high accuracy
Small in size, and easy to carry and Light weight of 45g, batteries included
Battery voltage indication: color graph
Auto power-off after 4 seconds without signal
3.7V Rechargeable Lithium Polymer Battery (Charger: USB and AC charger)
Synchronous display on the oximeter and computer
Inner flash memory for more than 30 hours data storage
Advanced software for sleep study and monitoring
Power consumption: less than 20mA (wireless and alarm not work).
Particularly suitable for persons with:
Heart failure
Bronchial asthma
Chronic obstructive pulmonary diseases
Sleep apnoea
Patients will be able to go about their daily activities and send data through the USB cable to the computer.
The development of this product is vital to enhancing the tele-medicine market, which gives the benefit to collect data and promote noninvasive monitoring devices used in numerous medical settings around the world – including the hosptal medical clinics and EMS.